Hazley is a 9 year old Shar-Pei cross who arrived in care as a stray.
She was not in the best condition and had very sore skin and inflamed ears. This very typical of the Shar Pei breed.
Her coat and ears will definitely be something that will need to be maintained throughout her life.
She is a very sweet girl and likes to be near you while on walks or in the garden. She loves to go for walks and explore new sniffing grounds.
Hazley walks well on the lead, however she will to work on doggy social skills and learn shouting gets you no where!
Hazley does not really understand how to play with toys yet but she will show slight interest in a squeaky toy. Over time she will  see that toys and games are fun.
In the right home She will have a life full of positive rewards and new adventures.
Experience of the breed is preferred when we match her.
Since Hazley has been here with us at the home she has grown in confidence and is a favourite with all staff and walkers.
We feel Hazley would prefer to be an only dog, this is due to lack of socialisation. She will require on going training to help overcome this behaviour. we feel in time she will enjoy the company of canines once she realises having friends is fun.
Hazley is lover of food, she is great contender for positive rewards training!
She could be placed with children 16+ only.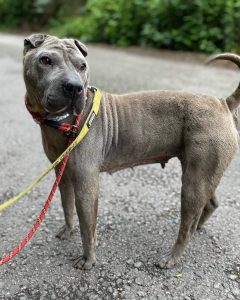 Hazley
Mae Hazley yn 'Shar-Pei' croes frid wnaeth cyrraedd ein drysau yn ddi-gartref. Mae yn 9 mlwydd oed.
Nid oedd ei chyflwr yn dda iawn ac oedd ganddi groen tost iawn a phroblemau gydag ei chlustiau.
Ar hyn o bryd mae'n cael ei baddu er mwyn gwella ei chroen ac mae wedi cael triniaeth priodol ar gyfer ei chlustiau. Mae ei gwellhad yn raddol ond ar y ffordd i wellhad llwyr.
Fe fydd angen cartref a rhywun yno rhan fwyaf o'r dydd gan nad yw'n hoffi bod ar ei phen ei hunan am gyfnodau hir.
Fe fydd angen edrych ar ol ei chot a'i chlustiau drwy gydol ei hoes. Gofynnwn i ymgeiswyr ystyried y bydd angen ymweliadau a'r milfeddyg petai hyn yn digwydd eto yn y dyfodol.
Mae'n ferch fach hyfryd ac yn hoff iawn o fod yn agos atoch wrth gerdded neu allan yn yr ardd. Mae'n cyfarwyddo a'r llinyn yn araf bach ac yn cerdded yn dda. Fe fydd angen ymarfer arni er mwyn cyfarwyddo a llinyn rhydd.
Nid yw Hazley wir yn deall sut i chwarae gyda thegannau ond mae'n dangos bach o ddiddordeb mewn rhai swnllyd. Dros gyfnod o amser fe fydd yn deall bod gemau yn sbort a sbri.
Yn y cartref iawn fe fydd yn cael digon o glod positif ac anturiaethau.
Fe fydd profiad o'r brid yn ddelfrydol.
Give Hazley a home
If you would like to apply to adopt Hazley please complete the
online application form
.
If your application is successful you will be invited to meet Hazley. If you do not hear anything within 7 days please assume that your application has been unsuccessful on this occasion. Due to the high volume of applications we receive we are unable to respond to everyone.