Say hello to Arthur, the young Staffie cross. Arthur is a gorgeous and loving boy who is looking for a quiet home where he can work on his anxiety. Despite being a big boy, he is very nervous of new people and will need time to warm up to you, but when he is comfortable he is the most loyal companion you could ask for.
Arthur will need a lot of work and commitment from his new family; applicants must have Staffie experience and know how to handle a nervous dog. Arthur will need ongoing work with a behaviourist to work on his socialisation as the outside world is a very scary place to him and he is fearful of new people, places and other dogs. A rural location away from busy traffic and dog-walking spots will definitely benefit him as he learns how to act politely with others.
As is common with blue Staffies, Arthur suffers with allergies and is currently taking medication to handle it. His new owners must be prepared to handle any flare-ups.
Arthur cannot be rehomed with other pets or children of any age due to his anxiety.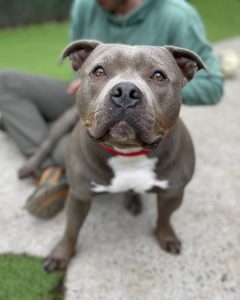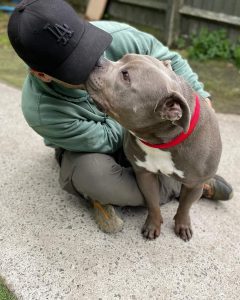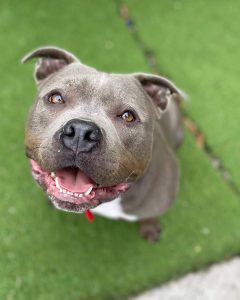 Give Arthur a home
If you would like to apply to adopt Arthur please complete the
online application form
.
If your application is successful you will be invited to meet Arthur. If you do not hear anything within 7 days please assume that your application has been unsuccessful on this occasion. Due to the high volume of applications we receive we are unable to respond to everyone.