Alfie terrier is 12 years young and absolutely full of beans in all aspects of his daily life. He literally loves being out exploring and would happily walk all day if he could.
Alfie could do with some training around other dogs. We do feel he could potentially live with a lady canine companion  if introductions are successful.
He also has a wire coat that will need daily grooming.
If you are fast paced and want a little furry sidekick, Alfie is your man!
Alfie could potentially live with children age 16+ based on introductions.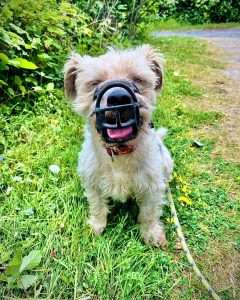 Alfie is muzzled trained and has no issues wearing it. He loves his walks and he associates his muzzle as a positive. Alfie wears as muzzle as he can sometimes get a little over stimulated with passing dogs. He is working hard at his training and is doing so well. He has progressed so much since being with us.
Alfie does not deserve to be living in kennels. He would like nothing more than a little chair to curl up on after a day of adventures.