Barney is a young spaniel cross who was brought to us in quite a sorry state. His coat had been left unkempt for so long that the staff could barely tell what breed he was. The poor boy was so shut down and it was clear that he's been let down by his previous humans.
After a long grooming session (including a big shave and several baths) Barney is feeling like a whole new dog! He is still finding his feet and is more of a people-watcher at present, but will surely learn to love again soon. He's progressing every day from gentle strolls to long hikes and everyone's so pleased to see him enjoying life.
Barney has been introduced to several dogs at the centre and seems much livelier around them. He would benefit from a home with another dog to help build his confidence. He loves to have another dog to follow on a walk so socialising him safely will be a must. He may also be able to live with cats pending a cat test at the centre.
Barney would prefer a quiet home without younger children as he is still spooked by busy people and shuts down quite easily; he may be able to live with calm children.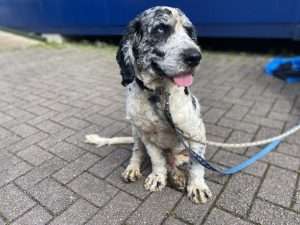 His new owners should be active and dedicated to him and recognise that rescue dogs take time to decompress in a new setting. Barney's coat will need regular maintenance to ensure it doesn't end back up in the state it was when he first came to us.