Handsome boy Rocky is a young Jack Russell. Rocky was a little worried on arrival but soon enough he showed staff and volunteers what a awesome little dog he is.
Rocky is true to the terrier breed, absolutely loves to explore, he is definitely at his happiest when on an adventure. He is gentle on the lead once he sets his pace.
Rocky takes life in his stride, he has a very loving temperament. He will definitely win some hearts over in no time.
As with all rescue dogs we highly recommend that they attend training classes. This is a great way to build bonds.
Rocky could potentially live with other neutered dogs, cats and children who are used to the business of the terrier.
All will be based in introductions at the centre and his criteria may change if needed.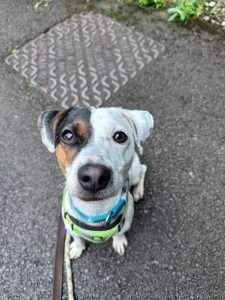 Awaiting welsh translation