Tomos is a Pug who is approximately 1-2 years old.
Tomos arrived in our care as an unclaimed stray. we are able to make sure he never let down by humans again.
He is full of beans and always making people laugh. Tomos is such a lovely little man. He is a right people dog. In true Pug style he is like a bottle pop, always ready to explore and lap up all the fuss.
He could potentially live with cats and other neutered dogs. We would also advise that he may be able to live with children, this will of course based on introductions at the centre.
Knowledge of the brachycephalic breed is essential.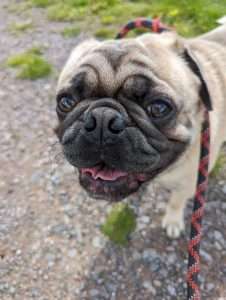 Awaiting welsh translation