Bear is an 8 year old German shepherd. He is a large boy looking for a retirement home.
Due to lack of socialising in younger years he does require training in this area to help him learn a much needed skill.
Bear is sweet boy, he does need some time to feel comfortable around new people. Once the trust is established you will see for yourself how awesome he is.
His coat will require daily grooming and knowledge of the GSD breed is something the staff will look for in his applications.
He could potentially live with a neutered female canine of similar age. Bear does have some mobility issues and is unable to go long walks, joint supplements will help with this and he may require vet prescribed medicine in the later days of life. With monitoring his exercise levels we have found he is able to manage fine and not be in any discomfort.
Bear will not tolerate children or young active dogs. He will need a calm and steady paced home.
Bear is currently in a foster home, here is what his fosterers had to say.
Bear Sleeps through the night and is fully house trained. He will let you know when he wants to go. He has settled into a new routine very quickly.
Bear is very good with basic commands such as sit, give paw, wait, walk on etc waits at junctions.
Is still reactive to dogs but is able to walk on, has also been a little reactive to pigeons. His fosterers have been using the treat distraction method and he seems t picking it up slowly.
Back legs do struggle if he's had a big walk and sometimes stairs seem hard for him but generally doesn't seem to cause any discomfort particularly when out on walks. Mostly shows when he's trying to stand up from sitting or lying.
Would like to be a sofa dog (we've said no because of only being temporary home) but is very responsive when we tell him he can't and gets down.
Doesn't beg for food.
No guarding on food and eats well.
We did trial him with toys and he seems to really engage with them, There was also some guarding with the toys he did have but did he let us remove them without aggression. He does currently have a slight sore on his face so no toys at the moment due to letting that heal.
He generally happily snoozes in the day. Likes to wake for fusses.
Very, very loving and always in the mood for snuggles.
Has reacted really well to people he doesn't know (my mum visited and he was very welcoming and affectionate).
He's been an absolute dream boy to be fair.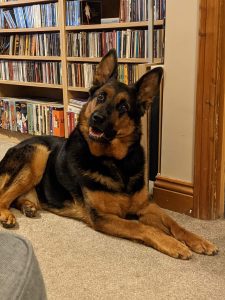 Rhowch gartref i Bear
Os hoffech wneud cais i fabwysiadu Bear cwblhewch y
ffurflen gais ar-lein
.
Os bydd eich cais yn llwyddiannus cewch eich gwadd i gwrdd â Bear. Os na chlywch chi unrhyw beth yn y 7 diwrnod nesaf gofynnwn i chi gymryd nad yw eich cais wedi bod yn llwyddiannus y tro hwn.Oherwydd y nifer fawr o geisiadau rydym yn eu cael ni allwn gysylltu â phawb am hyn yn anffodus.